HARD SPOT INSPECTION TROLLEY - English - Page 30/84
Operating and Maintenance Instructions
adaptaed from: https://app.box.com/s/c6qfgtuhfg1yd2ottrfum98x8jmg7rn3
Hard spot inspection trolley • PLAMAT-M • 18201
Operating and Maintenance Instructions • V2.0
Structure and handling of the trolley

3.6 Chalking marking unit

When inspecting a plate, a shock cord with chalk can be used for indicating the traces on the plate.

The trolley provides the possibility to use chalk pens for marking purposes. Two holders at the front of the inspection unit allow to insert chalk pens. They are pressed onto the plate by additional weights. When lifting the inspection unit into the parking position, two small wheels
at the front flap down and trigger rubber buffer to arrest the chalk pens.

For replacing the pen, remove the rod with weights and insert a chalk pen with diameter less than 12 mm.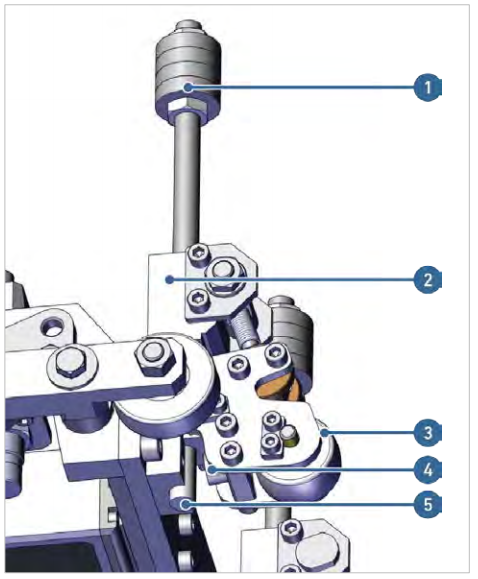 Figure 27: Chalk marking unit
Table 8: Chalk marking unit
| | |
| --- | --- |
| Pos. | Description |
| 1 | Thread rod with weights |
| 2 | Holder |
| 3 | Roller |
| 4 | Rubber buffer |
| 5 | Chalk |
| | |
| --- | --- |
| ROSEN and IZfP Page 30 of 84 | Confidential! |